10th Anniversary of the International Symposium
on Ultrafast Intense Laser Science
This year marks the 10th anniversary of the ISUILS symposium series that started in Tokyo in 2002. At the banquet of ISUILS10 on October 20, 2011 at the Hotel auf der Wartburg, Germany, a small ceremony was held to celebrate this memorable occasion. Prof. See Leang Chin of Laval University, Canada, made a speech in appreciation of the initiating sponsoring organizations in Japan as well as the strong support from many industrial and academic organizations. The symposium series was a success because of them and because of the sincere efforts made by Prof. Kaoru Yamanouchi for consistently leading this annual symposium series.
Click here for Prof. Chin's message of congratulations.
Then, a plaque of honor was presented to the symposium Co-chair, Prof. Kaoru Yamanouchi, by Prof. Katsumi Midorikawa on behalf the International Committee of Intense Laser Science and all past and present participants of ISUILS. The plaque reads:
A sincere tribute to Prof. Kaoru Yamanouchi
For his vision, leadership and tireless promotion of international collaboration as well as his outstanding scientific contributions in ultrafast intense laser science
See Leang Chin (Laval University, Canada), Hirohiko Kono (Tohoku University, Japan), Deepak Mathur (Tata Institute of Fundamental Research, India), Katsumi Midorikawa (RIKEN, Japan), Gerhard Paulus (Friedrich Schiller University Jena, Germany), On behalf of all participants of ISUILS, past and present
A beautiful Meissen china cup and saucer was presented to Prof. Yamanouchi by Prof. Gerhard Paulus as a gift from the ICILS committee members.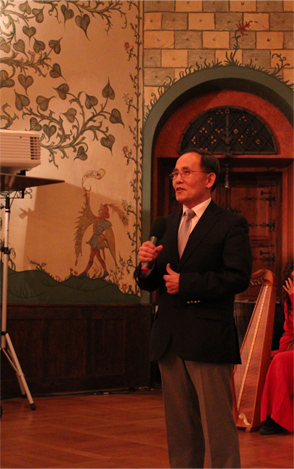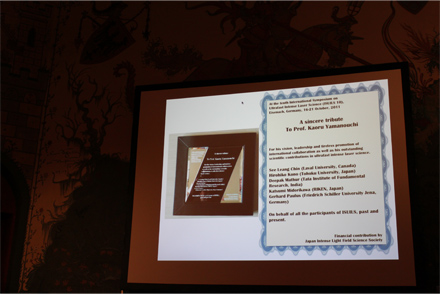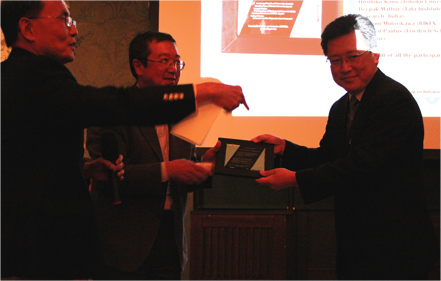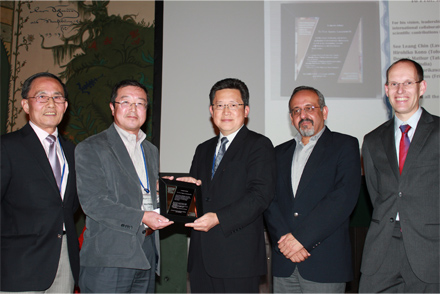 P.S. Until the minute at which Prof. Yamanouchi was presented the plaque and the gift, he was totally in the dark while almost everyone else at the symposium knew about it already. It was meant to be a pleasant surprise to him, of course.
--See Leang Chin